I guess that you mean a 'Fogged' induction kit! This is simply a modification to the standard air box inlet cone, and using a home-made cold air inlet pipe, first made by an American called Fogg. It involves cutting away the inner (facing the filter element) half of the intake cone inside the air box, and adding a suitbale pipie between the inlet of the air box and the front of the car, where it can hopefully gain some ram effect from the high-pressure air in that area.
The better induction kits feed a cone filter from a flexible pipe, with a suitable air dam to seperate the filter intake area from the hot air from the radiator - nothing special, really.
The answer is to find a suitably noisy filter - which by definition will probably not do much of a job as a filter - and make your own intake pipe. Remember however that many insurance companies will regard an induction kit as a power-enhancing modification - even if all it does is to make a lot of noise!
I made my cold air inlet from B&Q 70 mm rain water pipe, which cost almost nothing, and looks far better than any of the 'professional' inlet pipes. Being internally smooth it does not generate any turbulence - most pipes are flexible corregated hose, and so generate lots of internal turbulence, which reduces the rate of air flow. My inlet pipe does not produce any additional noise, either, as it simply feeds into the standard air box.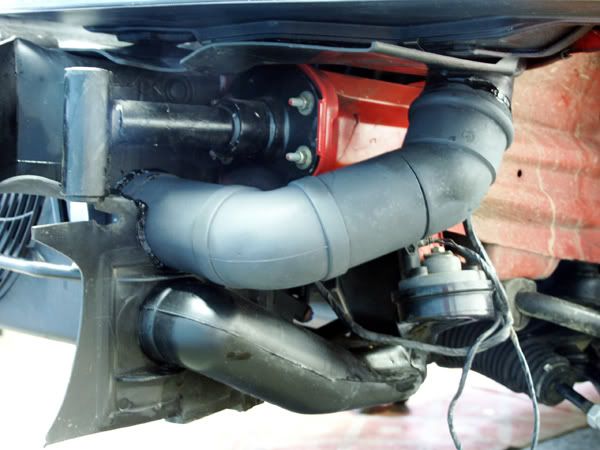 Although I will doubtless be criticised for saying so, I am not a fan of K&N filters - for very good reasons - which although they may upset some people should not be interpreted as a criticism of those who - in the absence of information other than advertising hype - fit them.


Edited by Mike Fishwick - 30 Mar 2014 at 12:59pm